.
THIS IS LEMON SHOP!
Una vocazione decisamente cosmopolita e un'attrazione per le diverse sub-culture internazionali portano Marco e Valentina, nel 2013, a dare vita a Lemon Shop. Situato all'interno di un palazzo di fine Settecento di Lugo, Ravenna, Lemon non è solo uno store ma uno spot creativo dove l'abbigliamento diventa mezzo di espressione della propria personalità. Il progetto mira a fondere lo streetwear internazionale con l'heritage italiano attraverso una visione globale e un focus sulla ricerca. Moda e lifestyle evolvono rapidamente e Lemon è sempre pronto quando si tratta di accogliere i nuovi trend. Lemon offre un assortimento che include brand ready-to-wear e accessori uomo insieme ad una selezione di accessori donna e prodotti unisex.
WHY LEMON?
Aspro, succoso e vitaminico, con un colore attraente e una forma semplice. Il limone incarna la nostra filosofia con le sue tonalità energetiche e luminose perché rompe le regole e si impone sulla monotonia del quotidiano. Lemon shop è uno store per chi ama andare diritto al punto, in modo imprevedibile e super cool. La location di Lemon incarna perfettamente questo approccio irriverente: il rigore pulito e l'elegante austerità delle costruzioni di fine Settecento fanno da cornice ad un'atmosfera interna contemporanea e metropolitana.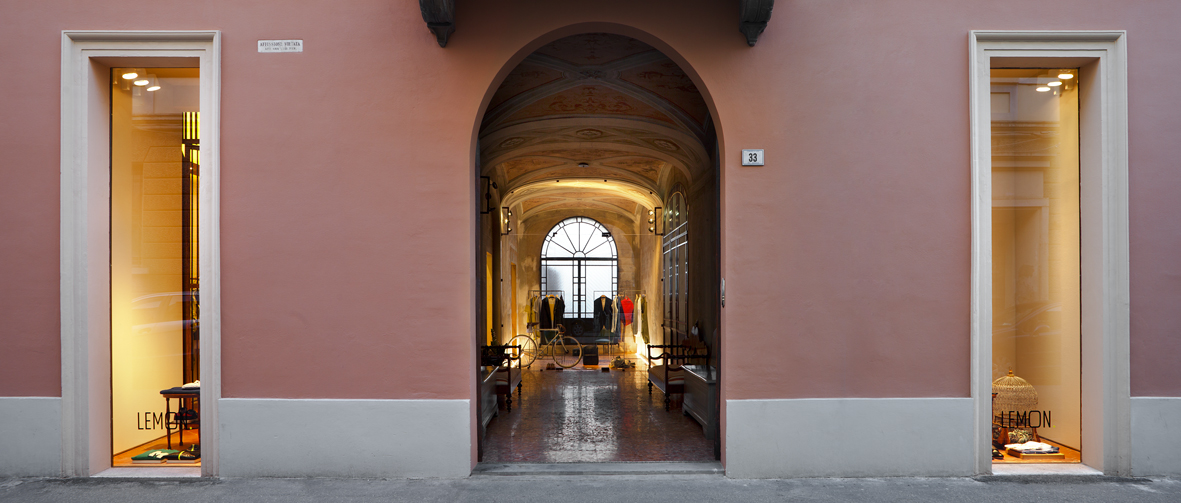 THIS IS LEMON SHOP!
Lemon shop is the result of an irresistible vocation for cosmopolitanism and sub-cultures. Located inside an elegant 18th century building of Lugo, Ravenna, Lemon is not just a shop but a creativity workshop where clothing becomes a means of self-expression. Established in 2013 by Marco and Valentina, Lemon Shop was conceived to bring together international streetwear and Italian heritage. A global view and a strong focus on research is what makes Lemon so different from other stores: fashion and culture are changing fast and we are always there when it comes to new trends. At Lemon we focus on the latest international brands for men, keeping an eye on women's most inspiring accessories and unisex products.
WHY LEMON?
Sour and juicy, with an appealing color and a simple shape. A lemon embodies our philosophy with its energetic tones and its bright appearance, breaking the rules and glowing in the dark. Lemon shop is just like this: a straight to the point and easy-going store with a super tasty juice. Our Location perfectly reflects this irreverent attitude: the clean austerity and the ordered geometries typical of 18thcentury buildings act as a frame to a urban contemporary atmosphere.
DOVE SIAMO | WHERE WE ARE
LEMON SHOP
Via Baracca, 33 – Lugo (RA)
---
ORARIO ESTIVO
Lunedì 16-20      Martedì-Sabato 10-13 | 16-20
A Luglio e Agosto LUNEDI CHIUSO TUTTO IL GIORNO
SUMMER OPENING HOURS
Monday 4pm-8pm Tuesday-Saturday 10am-1pm | 4pm-8pm
In July and August we will be closed on monday

ORARIO INVERNALE
Lunedì 15.30-19.30      Martedì-Sabato 10-13 | 15.30-19.30

WINTER OPENING HOURS
Monday 3.30pm-7.30pm Tuesday-Saturday 10am-1pm | 3.30pm-7.30pm
COMPILA IL FORM PER RICEVERE INFORMAZIONI – FILL IN THE FORM BELOW TO RECEIVE MORE INFORMATION